ZYD Series Transformer Oil Regeneration Machine With Double-stage Vacuum System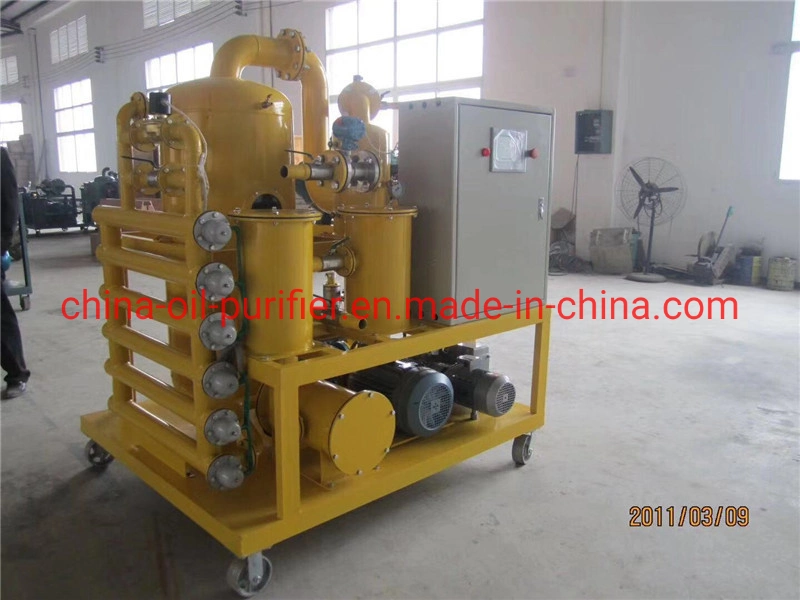 Application
1.This machine is applied to recovery unqualified transformer oil, mutual inductor oil, switching oil and other insulation oil.
2.Especially large transmission and transformation voltage equipment above 110KV and national main transformer network in areas above 500 meters above sea level.

Function

1.Removes Dissolved Moisture Transformer Oil

2.Reduces combustible gases and oxygen

3.Improves oil dielectric values

4.Improves transformer power factor

5.Extends oil service life

6.Extends transformer service life and reliability
Feature
1.High vacuum: High point-Vacuum<=5pa Working-vacuum<=35pa
2.High absorption speed: Absorption speed power≥333L/Sr.
3.Duplex 3D stereo-evaporation, eliminating the liquid water quickly
4.UK G technology by which the trace water that is show chain, such as dissolved water,
can be removed effectively.
5.Distinctive remove impurities system filtering through double FH trapezoidal network and absorbing by high polymer without the mechanical power.
7.Especially applied to vacuum oiling and drying for power transmission equipments that are over 110KV
8.Can be operated both on-load and off-load.

Advantage
Comparing with the single-stage vacuum oil purifier, this machine dewaters, degases
and removes the impuritiesmore quickly, more completely, and makes the oils limiting voltage-withstand value much higher. As the bridge-type vacuum linking system,
it is used for filtrating system as well as an independent vacuum power supply to vacuum oiling of power equipment.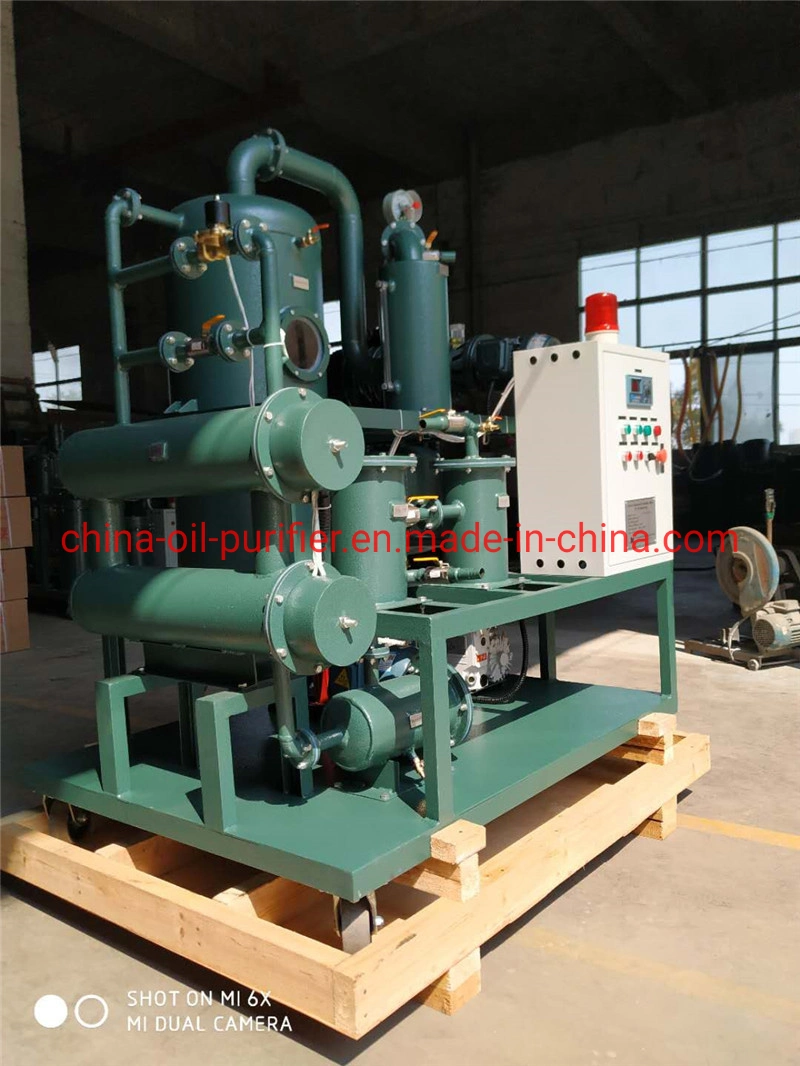 Brief Introduction

Machine Condition: New
Treatment Capacity: 6000 L/H
Working Pressure: ≤0.4 Mpa
Place of Origin: Chongqing, China (Mainland)
Brand Name: ZHONGNENG
Model Number: ZYD-100
Application: Transformer Oil
Power data: 380V 50HZ/3 Phase Or As Required
Working principle
When this machine start working, the used oil will be injected into the primary filter under the pressure, the primary filter will remove the big impurities, then the oil which just contains the particles is heated by the heater. Then the treated oil enter into the vacuum separator, the vapor is separated from the oil and refrigerate to water under the process of the lowest-vacuum pressure and the degassing equipment. The last procedure is that the fine filter removes the particles completely.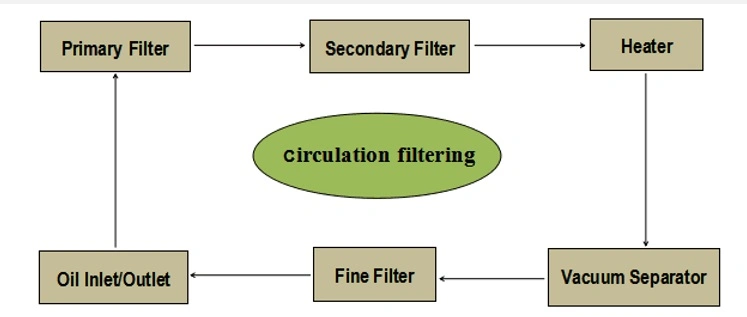 Technical Parameters
Parameters

Unit

ZYD-30

ZYD-50

ZYD-100

ZYD-150

ZYD-200

ZYD-250

ZYD-300

Flow Rate

L/H

1800

3000

6000

9000

12000

15000

18000

Working Vacuum

MPa

-0.08 ~-0.099

Working Pressure

MPa

≤ 0.3

Temp Range

ºC

20 ~80

Power Supply

380V, 50Hz, 3Phase( As per required)

Working Noise

dB

60 - 80 (Depended on the configuation)

Heating Power

KW

30

60

90

135

150

165

180

Total Power

KW

35

67.5

101.5

149

164

198

Inlet/Outlet Diam

mm

25

32

42

50

50

60

60

Weight

KG

450

550

750

950

1200

1850

2000

Size

Length

mm

1450

1450

1750

1850

1950

2050

2150

Width

mm

950

1000

1250

1300

1350

1400

1450

Height

mm

1700

1750

1950

2000

2050

2100

2150

AFTER TREATMENT

Dielectric Strength

KV

≥ 70

Water Content

PPM

≤ 3

Gas Content

%

≤ 0.1

Particle Size

Μ

≤ 3

Cleanliness ≤NAS 1638 Grade 5
Spare Parts

Oil filter element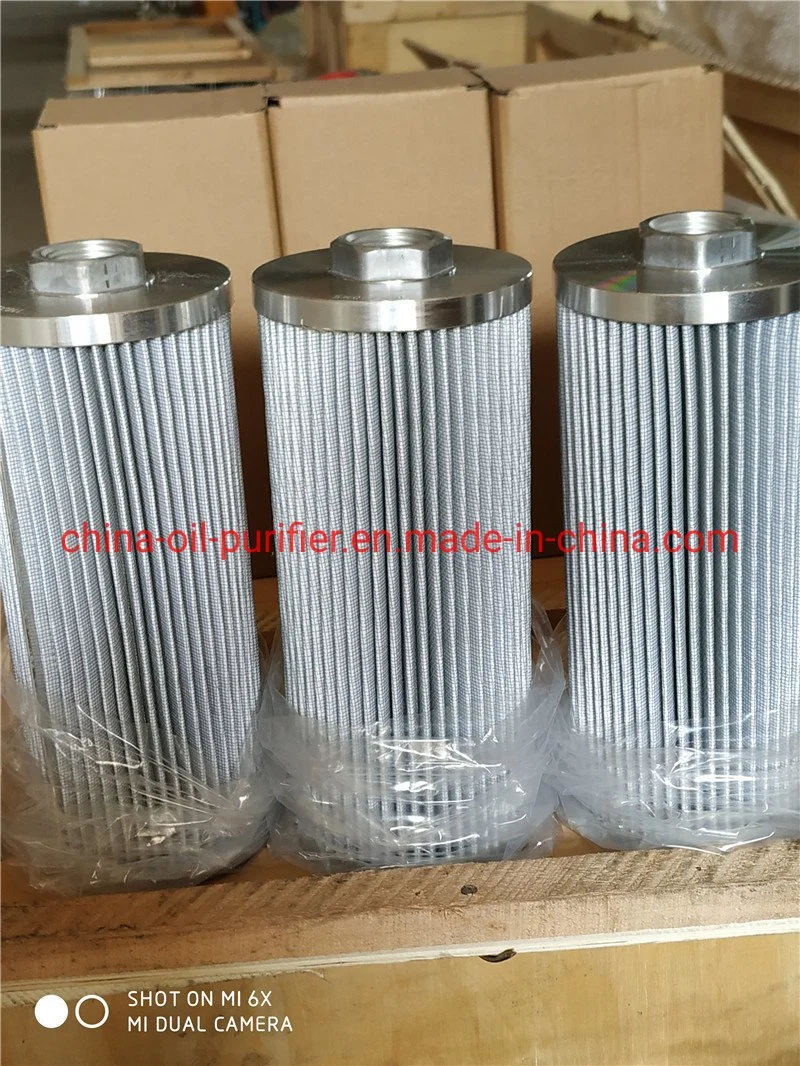 Roots pump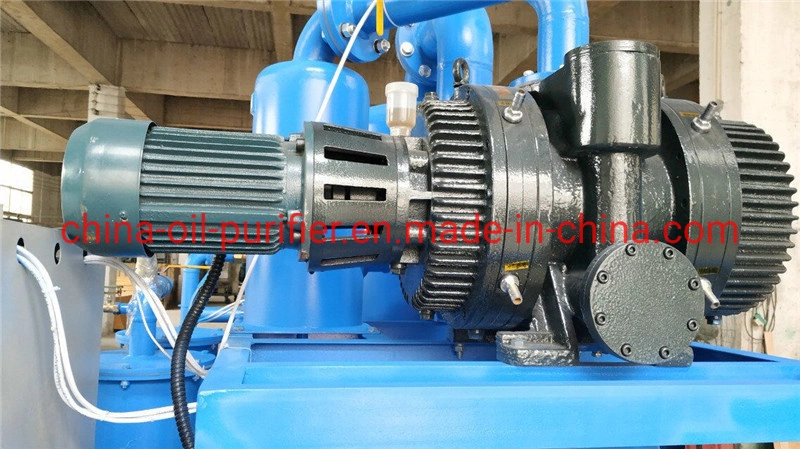 Vacuum pump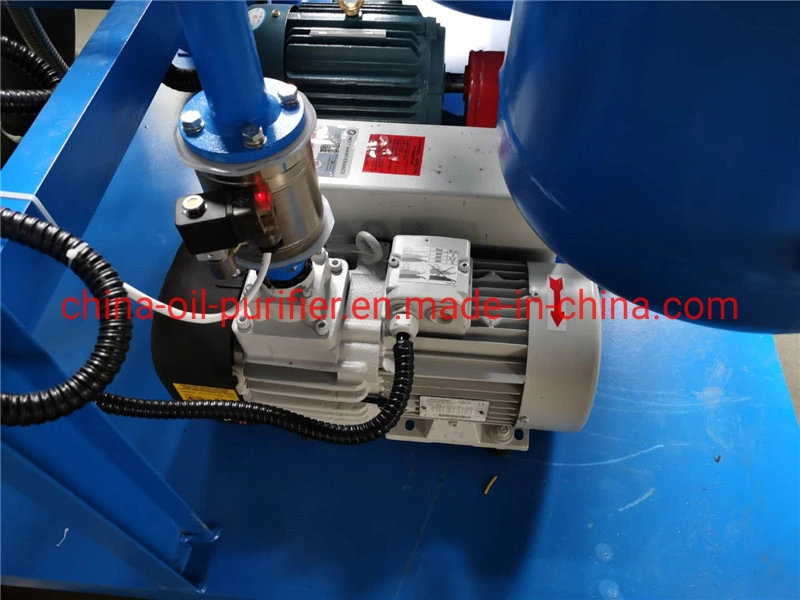 Company information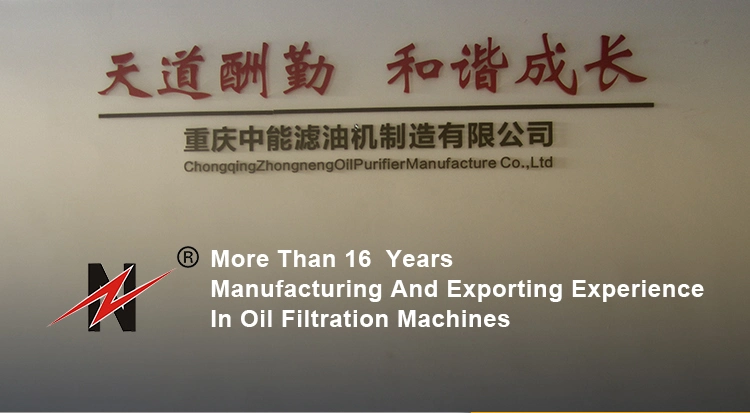 Chongqing Zhongneng Oil Purifier Manufacture Co., Ltd is a leading oil purifier manufacturer in China, which engages in developing, producing, selling a series of oil purifier such as transformer oil purifier, turbine oil purifier, engine oil purifier, lube oil purifier and so on. We practice in this line for fifteen years, so we have a strong technology and gain rich experience. Our products have been exported to many countries, and get a high reputation.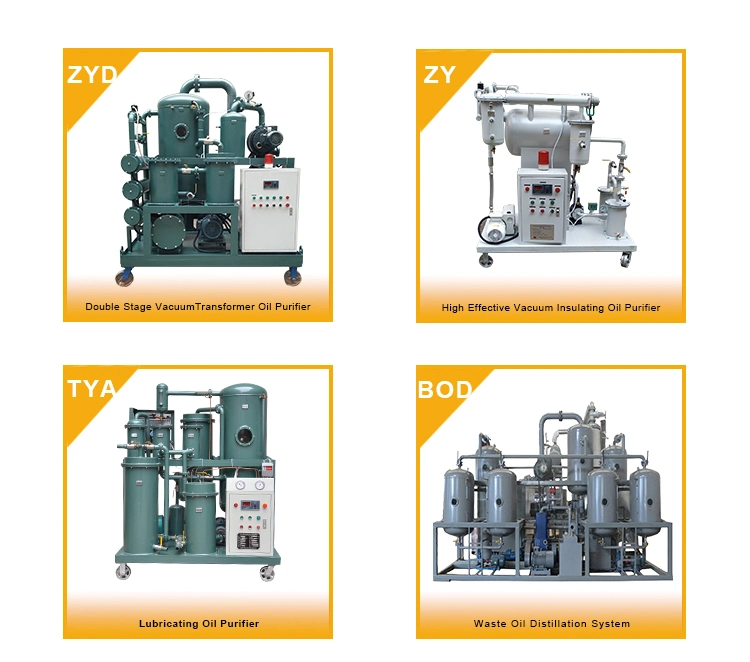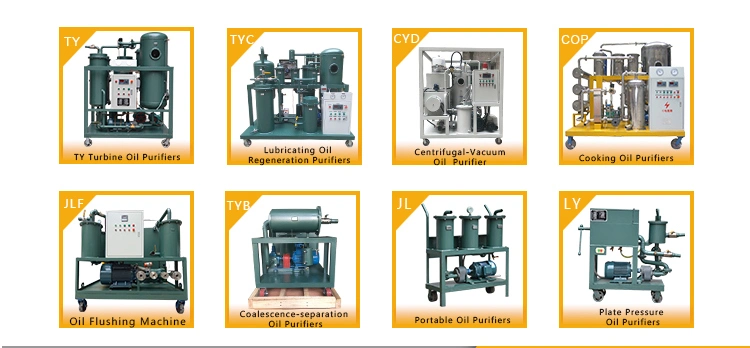 For insulating oil purification and regeneration

1.ZY series for purify the insulating oil (for less than 110kv transforer oil purification or other insulating equipment oil)

2. ZYB series for purify and regenerate the insulating oil (for less than 110kv transformer oil purification and regeneration)

3. ZYD series for purify the insulating oil with a roots pump (for over 110kv transformer oil purification)

4. ZYD-I series for purify and regenerate the insulating oil (for high voltage insulating equipment oil purification and regeneration)

For lubricating/turbine oil purification and regeneration

1.TY series for purify the turbine oil (Mainly on dehydration, demulsification)

2.TYA series for purify the normal lubricating oil

3.TYC series for purify and regenerate the normal lubricating oil

TYB series without Vacuum system (deal with the dirty oil which can not be heated, and for the light oil)

LY series plate pressure oil purifier (remove the particals from the oil, can purify the vegetable oil when use SS material)

JL portable oil purifier ( it's economic with three-stage purification. remove impurities from the dirty oil, best for oil filling and oil drawing)

BOD series oil purifier ( purify the dirty black oil to normal color, over 90% oil yield)

BDV tester for insulating oil
......

For more information, please feel free to contact us.

After-sales Services

1.One year guarantee for product quality. (People damaged parts are charged).
2.Lifelong maintenance and spare parts supply.
3.Free design of fixtures as customers required.
4.Free training for machines installation and operation of the staffs.

For more infomration and detailed product specifications, please contact us!
Please leave us your email and mobile number to send you more photos , brochures and price details. Thank you!

Post by Sophie