Zanshare casting resin is a professional grade, high-performance, ultra-clear, self leveling, and high gloss epoxy resin coating. It creates a durable protective barrier up to 2 inches thick.

Zanshare casting resin is a high performance casting epoxy resin, formulated for a low exothermic heat buildup, an extended pot life and gel time. that cures to a crystal clear, UV resistant, glass-like finish.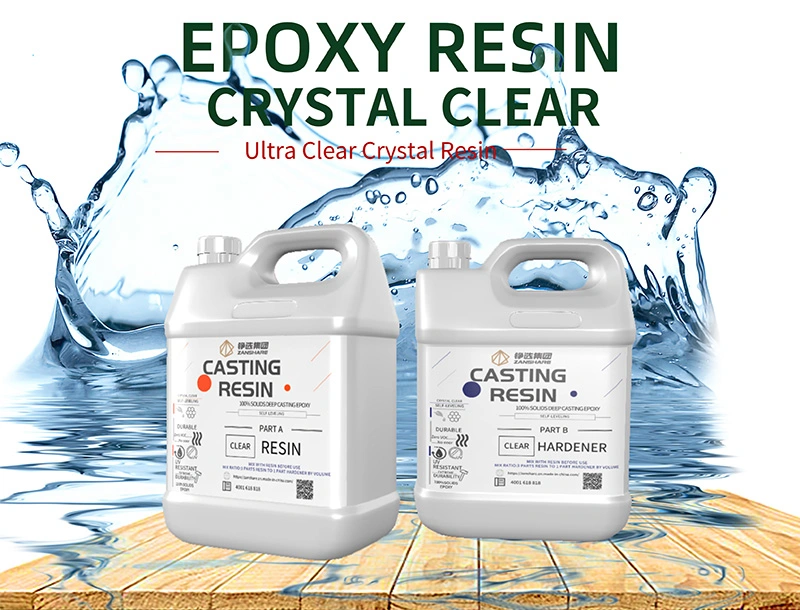 Application:

100% Solid Zanshare Epoxy Floor Coating is Recommended for:
Sealing your wooden tabletop.

Making a

river table

.

Re-coloring your current table.

Casting a new bar table.

Making serving trays.

Coasters.

Making a new kitchen top.

Pouring objects in moulds.

Casting a new side table.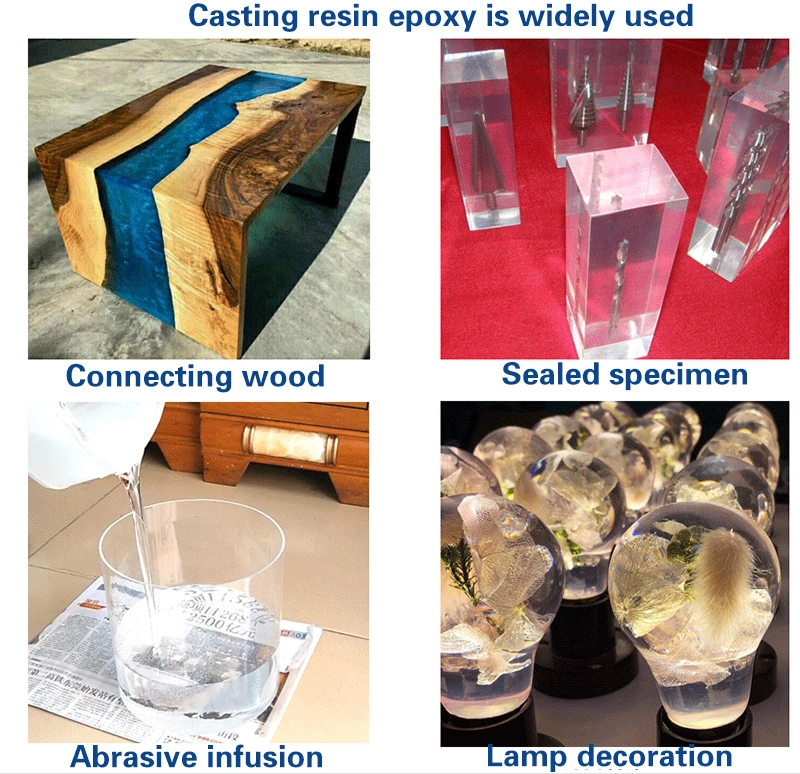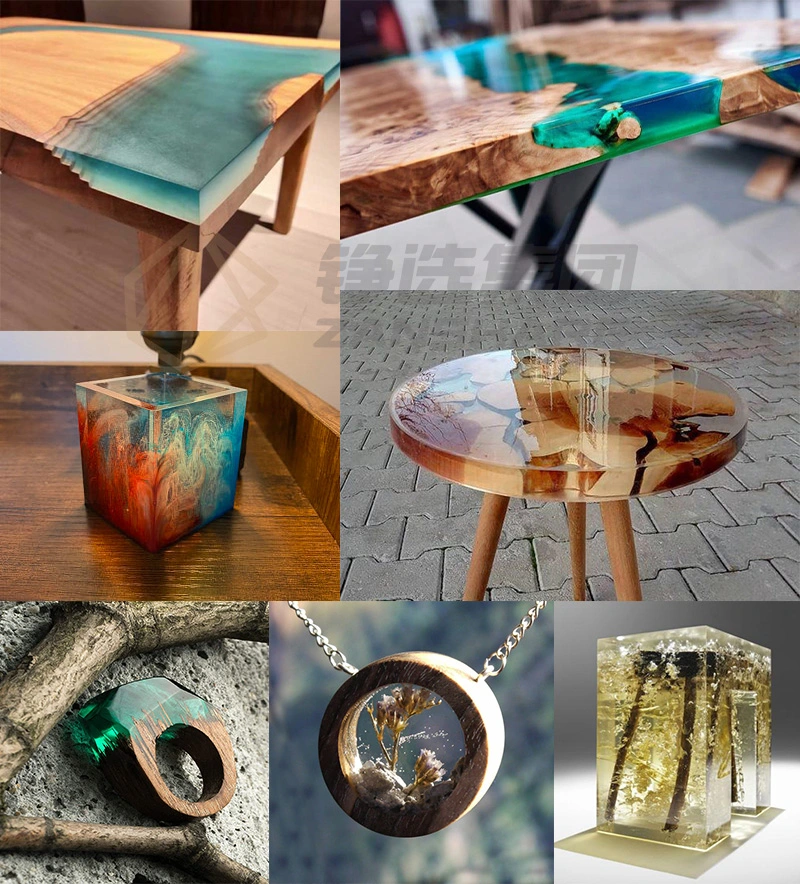 Description:
Casting Epoxy Resin Coating is a two-component curing coating at room temperature. Component A is epoxy resin, and component B is a solvent-free epoxy curing agent.We use only the finest 100% Solids Epoxy products with Low or zero VOC (Volatical Organic Content).
This is the epoxy casting resin you need to create beautiful pieces of art. Due to its main property a fast curing time for thicker layers it is easy to create epoxy resin project in short amounts of time. Create beautiful masterpieces yourself!
Super easy mixing ratio!


Features:

--Pours up to 2" thick
--No odor
--100% solids
--High-gloss
--Impact resistant
--UV resistant
--Blush resistant
--Improves surface appearance
--Crystal clear
--Self leveling
--Water resistant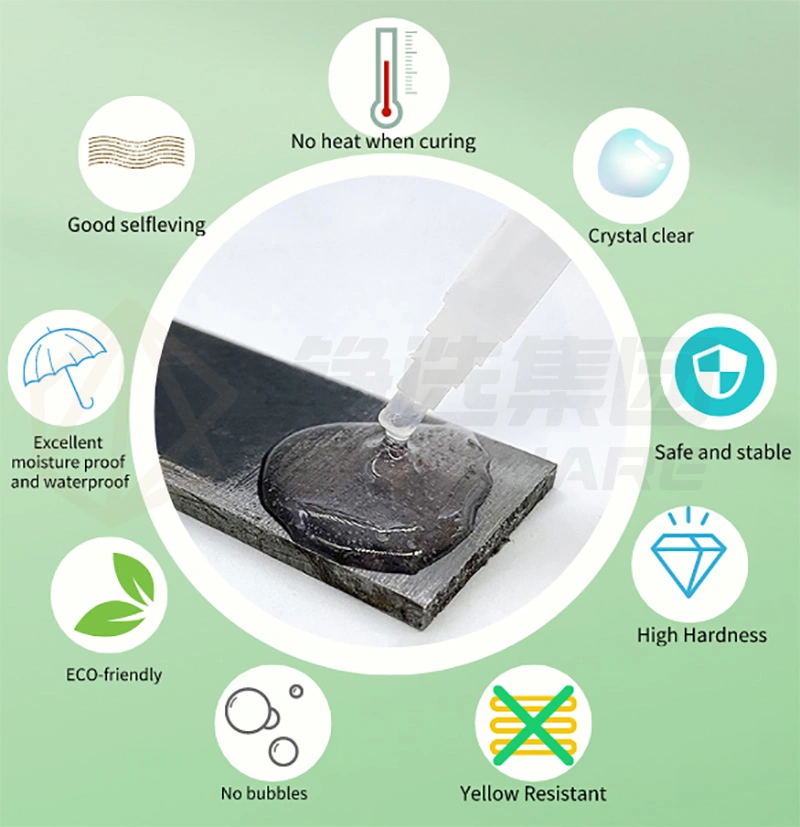 Clear Epoxy Resin For Wood Table Top Coating
Pls refer to below chart,this is for your reference.

Coverage:
1/8" pour: 12.8 sq. feet per gallon
1/4" pour 6.4 sq. feet per gallon
1/2" pour 3.2 sq. feet per gallon
1" pour 1.6 sq. feet per gallon
2" pour 0.8 sq. feet per gallon

product properties:
---Processing time of the product is 60 minutes at 20 degrees.
---The maximum layer thickness is set to a maximum of 5 centimeters.
--After 24 hours dust dry. Overcoatable after 36 hours.
--Full cure time is 7 days.
--Sandable after 3 days at 20 degrees.
--To cast a surface of 1 m2 with 1mm you need 1 kg.
--After curing the surface has a hardness of 86 on the Shore-D scale.
--Because of this hardness, the surface has a scratch-free finish. (High degree of Scratch Resistance)

TIP: Use the Zanshare

Table Top epoxy

to seal your table after the big pour for a high gloss result.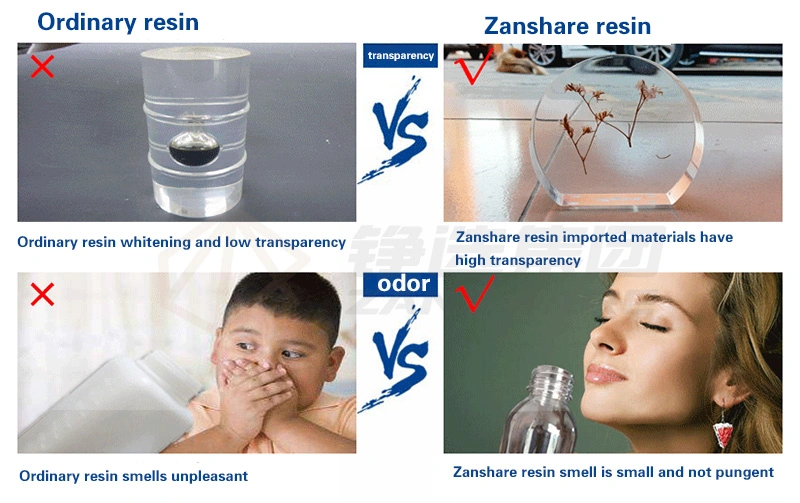 Technical Parameters
Part

3230A

3230B

Color

Transparent

Transparent

Specific gravity

1.05

0.96

Viscosity (25ºC)

1000-2000CPS

150 MAXCPS

Mixing ratio

A: B = 100:33(weight ratio)

Hardening conditions

25 ºC×8H to 10H or 50ºC×2H (2 g)

Usable time

25ºC×60min (100g)
Construction reference:
STEP 1: Measure and Mix: While most of our resin mix 3:1, we do have special epoxy resins that are 2:1 ratio and 1:1 ratio. Either way, a very important step is accurately measuring the resin and hardener. Placing them inside clean containers is just as important. Scrape the side wall and bottom to mix in all of the material.

STEP 2: Prep then Pour: If you have a porous material, you will need a seal coat (epoxy resin) prior. This helps prevent unwanted air bubbles from rising. After your projects is prepped or sealed properly, then we add the flood coat of epoxy resin.

STEP 3: Remove Air Bubbles with Heat: Pop those unwanted bubbles with a torch. We recommend a plumber's torch or a commercial heat gun. Simply wave the heat side to side (few inches away). The heat will release the bubbles instantly. Once your desired look is achieved, the epoxy resin is typically dry in 12 hours and cured in about 72 hours.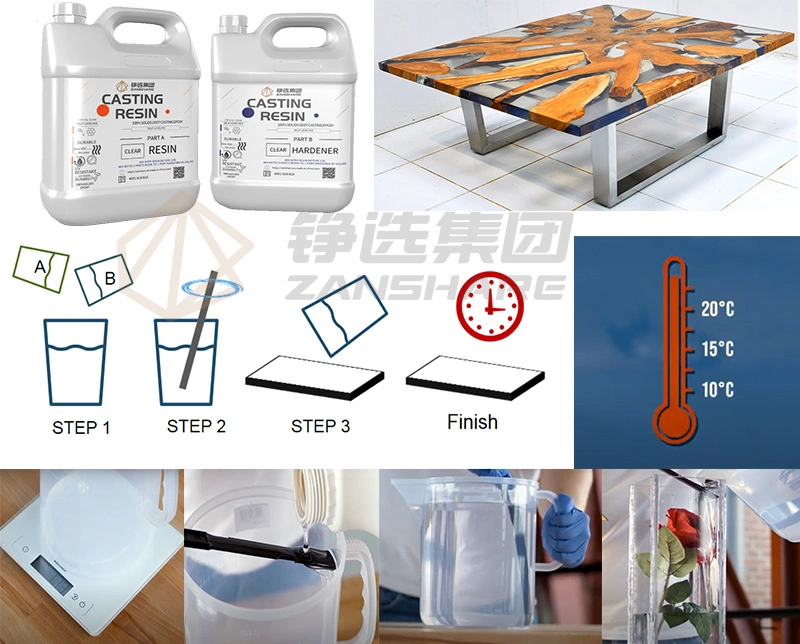 The Casting Epoxy Coating consists of :
A- Component Epoxy

B-Component Hardener

Our Package:
We accept OEM&ODM both for label and packages.And our normal package support: 1/5/20/25/200kg. Mostly is 5kg per bottle 20kg per set. The gross weight is 22kg and 0.05CBM.

Color Pigments

At present we have got below color pigments to mix with our casting resin ,that is:
--Mica powder
--Solid color pigments in paste
--Transparent color dye
--Glitter

Adding inks/paints/mica powder/glitter to epoxy resin will change its properties and may reduce its non-toxicity. If you use alcohol inks DO NOT use a flame to remove bubbles, as alcohol is flammable.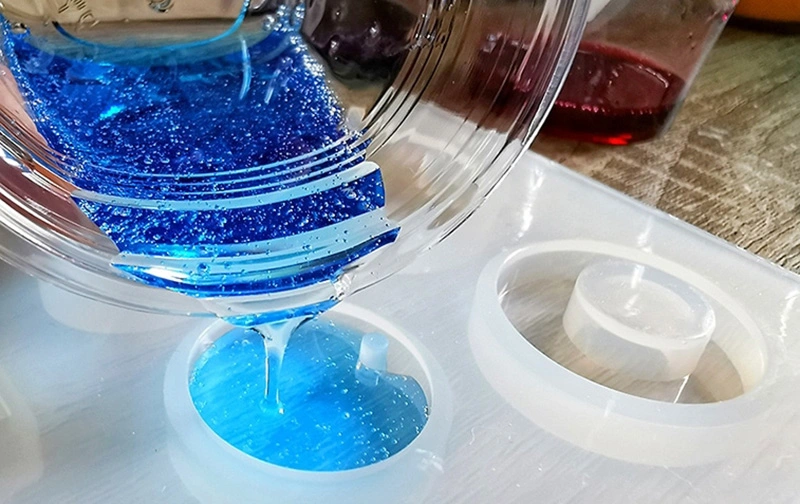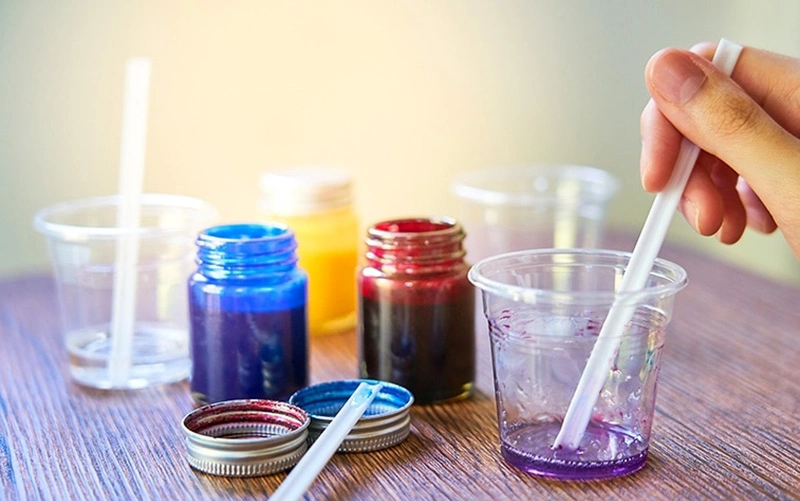 Factory introduction: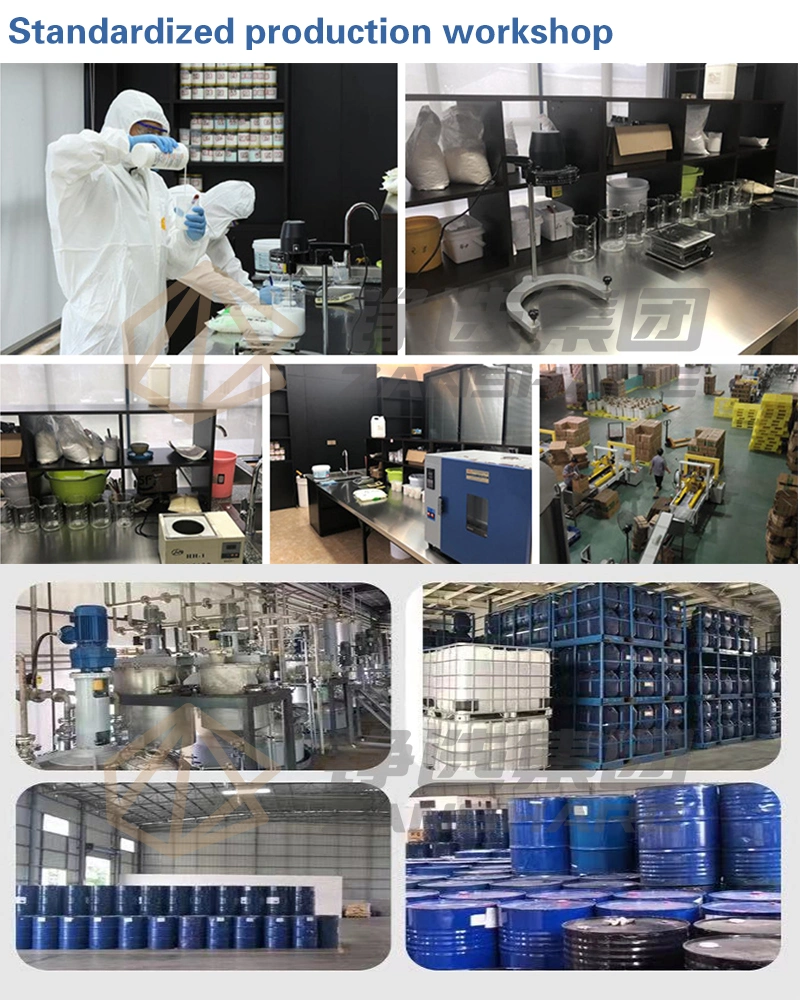 FQA
Q: Can I be your agent?
A: Sure, we are looking for agent all over the world.
Q: Sample is free?
A: Yes, we provide free samples (400g) , customer only need to pay the freight.
Q: What's the payment?
A: We prefer T/T 30% deposit in advance, 70% balance T/T before the shipment!
Q: What is the min. order quantity?
A: MOQ is 300 kg/ color.
Q: What is the delivery time?
A: Within 10 days since received the deposit.